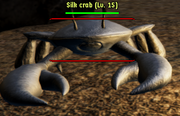 Bag of Sea Salt
can be obtained by killing
Silk Crab (Lv. 15)
inside of
Coral Cave
.
Coral Cave
is located West(NW) from the
Monastery
and a
Coral Key
is required for entry.
Coral Key
's can be obtained from fishing, killing Crabs, or by other players through Auction House, General Store, or trading. Alternatively, the Grimwall General Store Owner may have
Bag of Sea Salt
for sale if other players have sold it to him.

(MBreezySamurai) - Added on 11 August 2018 @ 1200pm.